Chicken Bone Broth Soup
Chicken Bone Broth Soup Health Benefits:
1. It is highly nutritious
2. It may protect the joints
3. It may help fight osteoarthritis
4. It may help reduce inflammation and heal the gut
5. It may aid sleep
6. It may support weight loss
Chicken Bone Broth Soup Recipe:
Ingredients:
Whole chicken or chicken leg bone
Filtered water as needed to cover
Apple cider vinegar 2 tbs.
4 Large Carrot
1 Large Onion
2 Bay Leaves
Black Pepper Powder
Spices as you like (I use ginger, garlic, mint, coriander leaves.)
Salt as Taste
4 Stalk of celery
Directions:
Add all ingredients in a pressure cooker and cook 3 hours. When the soup is cooked then strained and store in a freeze for 3 days.
Broccoli Salad Recipe
Ingredients:
1 head broccoli
6 to 8 slices cooked bacon, crumbled
1/2 cup chopped red onion
1/2 cup raisins, optional
8 ounces sharp Cheddar, cut into very small chunks
1 cup mayonnaise
2 tablespoons white vinegar
1/4 cup sugar
1/2 cup halved cherry tomatoes
Salt and freshly ground black pepper
How to make:
Trim off the large leaves from the broccoli stem.
Remove the tough stalk at the end and wash broccoli head thoroughly.
Cut the head into flowerets and the stem into bite-size pieces.
Place in a large bowl.
Add the crumbled bacon, onion, raisins if using, and cheese.
In a small bowl, combine the remaining ingredients, stirring well.
Add to broccoli mixture and toss gently.
Now serve this side dishes broccoli salad.
Turmeric Ginger Tea
Turmeric ginger tea is brewed by steeping ginger root and turmeric powder in the same beverage. Drinking this unique combination tea is recommended for people suffering from chronic pain, indigestion, anxiety, diabetes, high cholesterol, Alzheimer's, dementia, and eczema, along with people at a high risk of cancer and other chronic diseases. Let's look at the benefits in detail.
 Recipe
Ingredients:
1 cup of water (filtered)
1 teaspoon of grated ginger
1 teaspoon of grated turmeric
1 teaspoon of honey or lemon juice
1 teaspoon of black pepper
Step 1 – Bring the water to a boil in a saucepan or stainless steel pot.
Step 2 – Add the turmeric and ginger, and then bring the heat down to a simmer.
Step 3 – Allow the mixture to steep for 10-15 minutes.
Step 4 – Strain the tea into a teapot.
Step 5 – Add the black pepper, lemon juice, and honey,
and enjoy the beverage!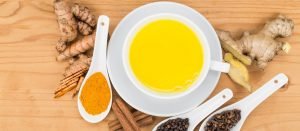 Grilled Cauliflower Steaks with Fresh Herb Sauce:
It's a simple and easy to make vegetarian dishes. Instead of burgers, ribs or hot dogs, try grilling healthy cauliflower. And you can make it just in 20 minutes.
Ingredients:
1 large head cauliflower
1 tablespoon canola or grapeseed oil
1 teaspoon ground cumin
1 teaspoon ground turmeric
Salt and pepper
2 tablespoons packed, finely chopped fresh parsley
1 tablespoon packed, finely chopped fresh mint
1/2 small lemon, zested and juiced
1 teaspoon olive oil
1 garlic clove, finely minced
1 large pinch red pepper flakes
How to make it:
Preheat your grill at medium-high heat. Trim the leaves off of the cauliflower and remove the end of the stalk. Set it on your cutting board and cut into thick steaks from top to bottom (so that they look like the photo). You will get two to four whole steaks. Save the remaining loose cauliflower florets for another use. Brush both sides of the steaks with oil. Dust with the cumin and turmeric and season with salt and pepper on both sides. Grill the steaks for about five minutes per side, or until they have reached the desired doneness. Combine the parsley, mint, lemon zest and juice, olive oil, garlic and pepper flakes in a small bowl. Season with salt and pepper. Serve the sauce drizzled over the top and more on the side.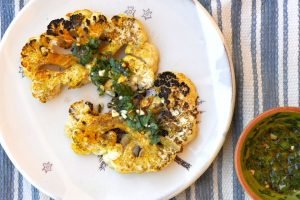 Vegan Cauliflower Soup:
In this winter you can easily make cauliflower soup. It is very low in fat and low calories vegetarian soup.
Ingredients:
Olive oil or vegan margarine 1 tbsp.
Minced cloves garlic 2
Diced onion 1
Chopped cauliflower head 1 large
Vegetable broth 3 cups
Bay leaves 2
Dash Nutmeg 1
Salt to taste
Black pepper to taste
Grated vegan cheese for topping
Chopped green onions for topping.
How to make it:
In a large soup or stockpot over medium heat, Sautee the onion and garlic in the vegan margarine or olive oil for 3 to 5 minutes, or until the onions and garlic are almost soft.
Add chopped cauliflower and cook for a few more minutes, stirring frequently. Add the vegetable broth and bay leaves and bring to a simmer. Once the mixture is simmering, reduced the heat to medium-low, cover the pot, and allow to cook for
25 – 30 minutes. Carefully remove the bay leaves, then transfer the soup to a blender and puree until smooth and creamy, or, leave a bit of texture if you'd like.
Season lightly with a bit of salt, pepper and a dash of nutmeg and re-heat if needed.
Top with grated vegan cheese and green onions, if desired, just before serving.
Makes four servings.